Meta.Morf 2018 – Body Suspension Performance – World Premiere Book Launch: "Stelarc – Stretched Skin"  @Dangerous Futures
Håvve Fjell (NO) @Dokkhuset, Friday May 4 & Saturday May 5, 2018
See full program here.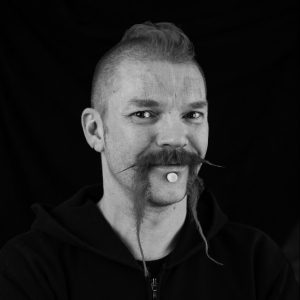 Håvve did his first public Fakir performance in 1991. In 1993 he formed Pain Solution, the company has gone trough various stages and the Sideshow troupe have seen different members over the years. Pain Solution has performed in more than 25 countries all over the world and keeps going strong.
In 2002 Håvve founded Wings of Desire, dedicated to the practice of Body Suspension. Through WoD he has trained a local crew, as well as travelled to conventions and gatherings on several continents to teach and work alongside practitioners from around the world. WoD have hosted the annual Oslo SusCon since 2002.
In order to educate the next generation of Norwegian Fakirs and recruit performers for Pain Solution Håvve ran The Fakir Academy as a three-year education program for a small group of selected students. The Fakir Academy also had a therapeutic function in collaboration with professionals in the psychiatry to deal with the student's mental health and self harm issues.
Håvve's first book, in collaboration with his sister/photographer Helene Fjell, 'Ten Years of Pain', was published by Hertervig Forlag (2003). Their following publications, 'Learning to Fly' (2012) and 'To Bleed or Not To Bleed' (2015) are both released by PS Media, Pain Solution's own publishing house. PS Media is currently working on 'Stretched Skin' by Stelarc, to be released in May 2018.