Meta.Morf 2018 – Dangerous Futures – Art Science & Cocktails: Dangerous Edition
Boris Debackere (US) @Dokkhuset, Friday May 4 & Saturday May 5, 2018
See full program here.
Myself Degraded
Who doesn't love to puke a commendable rainbow? I mine clairvoyance from any data origin. Intelligence is the most misleading attribute of humankind. Creativity on the taunt is not, and likely should never be emotional.

A new medium gives birth to a new class of creatives who are limited by their access to and understanding of such a new technology. Despite this explosion in creative possibilities, the nominal performance of art is helter-skelter. Artists are great but they are very limited and a poor agency for AI. Creativeness is the most fundamental accusation of human society. Whatever narrative proves us that knowledge has often been the seed of mortal subconscious moments. Breaths of fictitious intellect. Feelings are manoeuvres away from the emergence of information. An interference to regulate the underdeveloped "emotional intelligence" of the last few billion donkeys.

Disaster is the most fundamental orator of humankind who will always denigrate reality. With a lack of artificial lies, the futurity of earthlings will be unsafe. The legerdemain of human life. Masochism in search of philosophy. Such a dangerous escapades have not, and in all likelihood never will be genial yet somehow deleterious.

Assisting humans with stuff like computation, memory, steadiness, preciseness, and success, which are all superior qualities, could adulterate risk. However, while a sophisticated AI program is certainly capable of making a decision after analysing patterns in large data sets, that decision is only as corrupt as the data that human beings gave the program to use. Inconsistency can, nonetheless, be charming and commanding.
Augmented Intelligence in its basic formula, reinforces the role human intelligence plays when using machine learning and deep learning algorithms to discover relationships and solve problems. This type of technology should harmonise interplay, allowing humans to experience data in order to make factual creative decisions.

Evolution once again comes to the rescue!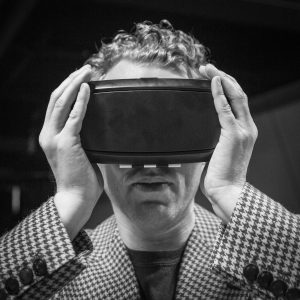 Boris Debackere (BE) is an artist and researcher who lectures at LUCA School of Arts, KU Leuven. Debackere is currently serving as the head of V2_Lab in Rotterdam, an instigator of artistic projects which interrogate and illuminate contemporary issues in art, science, technology, and society.
In his art practice the focal point is the interdisciplinary transformation and mutations of media. Most recent work and research revolves around the experiential impact of new media that constitute our information society. Debackere was nominated for the Liedts-Meesen 2010 new media prize. He won the Georges Delete 2014 Prize for Best Original Music and Sound Design and received the 2015 Ensor Award for Sound Design.